Thank You
You have been added to our email list, and you will automatically receive our next mailing when it comes out.

We appreciate your business, and we value your trust.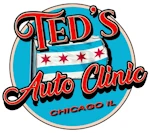 Ted is the best. He and his family are the nicest and most honest people I know in the auto repair industry. They have serviced my family's vehicles for many years now and have always done excellent work on all accounts, and at fair prices too. They've even taught me a thing or two about cars during my experiences there! I will get my car serviced here as much as possible going forward.
Tim B.