The Best Auto Repair And Maintenance Services

Proudly serving Chicago - 60634, 60656, Norridge - 60634, 60656, 60706, Elmwood Park - 60707, River Grove - 60171, and Harwood Heights - 60706.
Ted's Auto Clinic Inc. is a full-service preventive maintenance and auto repair center. We service and repair imported and domestic cars, trucks and sports utility vehicles.
Ted's Auto Clinic, Inc. specializes in the maintenance and repair of; Acura, Audi, BMW, Buick, Cadillac, Chevrolet, Chrysler, Dodge, Fiat, Ford, General Motors, Honda, Hyundai, Infiniti, Jeep, Kia, Lexus, Lincoln, Mazda, Mercedes-Benz, Mini, Mitsubishi, Nissan, Pontiac, Saturn, Scion, Smart, Subaru, and Volkswagen vehicle produced in 2002 or newer.
Don't be worried about the factory warranty on your new car! We have the staff, skills, training, and equipment necessary to perform all required maintenance on your new car or truck while still maintaining your factory warranty. The Magnuson-Moss Warranty Act, which is enforced by the FTC, makes it illegal for vehicle manufactures or dealers to claim that your warranty is void or to deny coverage under your warranty simply because someone other than the dealer did the work.
We are the preferred alternative to the dealership for all scheduled maintenance of your personal car or truck, as well as your fleet vehicles.
Call 773-625-7360 or message us to schedule an appointment today for all of your automotive needs!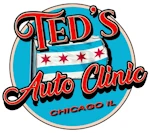 Ted is the best. He and his family are the nicest and most honest people I know in the auto repair industry. They have serviced my family's vehicles for many years now and have always done excellent work on all accounts, and at fair prices too. They've even taught me a thing or two about cars during my experiences there! I will get my car serviced here as much as possible going forward.
Tim B.