Auto Electrical Repair & Maintenance
Have a dead battery? Misfiring starter or alternator? For all of your auto electrical repair and maintenance needs, come to Ted's Auto Clinic Inc. in Chicago, IL 60634. We service your vehicle with care, providing a high level of workmanship you can trust.

Our auto electrical repair and maintenance services include:
Batteries
The battery supplies electric energy to the starter motor. If you need to jump-start your vehicle in the morning, your battery could be failing. When a battery starts deteriorating, our advanced diagnostic equipment can determine whether it requires replacement or a charge. If you are having issues with your car battery, contact Ted's Auto Clinic Inc. in Chicago, IL. We provide a convenient battery testing and replacement service to get you back on the road. Battery replacement, charging, installation, testing, and recycling - we handle it all.
Starters
A starter is a motor that rotates the internal combustion engine to initiate the engine's operation. Starters are important parts of your car's engine and their failure would translate to your car not starting. When your car's starter develops problems, seek expert help. At Ted's Auto Clinic Inc., we have experts who can handle all your starter needs to get you back on the road - quickly. Visit Ted's Auto Clinic Inc. today.
Alternator
Your car's alternator keeps the battery charged and the electrical components of the vehicle going when the vehicle is running. Some vehicles will start with a faulty alternator, but if you see a charging system warning on your instrument cluster your car may leave you stranded. Trust the experts at Ted's Auto Clinic to perform a complete electrical system check in order to determine if the alternator is generating the right amount of current and voltage.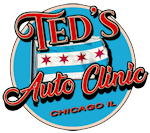 Ted is the best. He and his family are the nicest and most honest people I know in the auto repair industry. They have serviced my family's vehicles for many years now and have always done excellent work on all accounts, and at fair prices too. They've even taught me a thing or two about cars during my experiences there! I will get my car serviced here as much as possible going forward.
Tim B.