Ted's Auto Clinic Inc. Towing Services
Dealing with a car that just won't start, or move? With just a phone call, our towing specialists will be there to take the vehicle back to our shop for repair services. You'll appreciate our affordable towing services and our guarantee that your vehicle makes it back to our shop safely. For fast 24-Hour towing services, contact Mandy's Towing at 708-906-6754
Our towing services include:
24 Hour Towing
With our 24-hour towing service you can have your car towed any time of the day and taken back to the garage for repair services. In case your car or a car you are driving is disabled, contact Mandy's Towing at 708-906-6754 for professional around the clock towing services. Mandy's Towing boasts well-maintained tow trucks, and highly trained and certified drivers who are committed to providing professional and courteous services to all our customers.
Towing to Our Shop
Vehicle breakdowns are often unavoidable - this is regardless of how new your car is or how carefully you drive. When your car breaks down, the best option is to have it towed to a professional auto repair shop for repairs. This way, you can be back on the road as quickly as possible. To have your broken down vehicle towed to a quality auto shop for repairs, contact Ted's Auto Clinic Inc. today. At Ted's Auto Clinic Inc., we have a 'towing to shop only' service whereby we tow your disabled car to our auto shop for repair.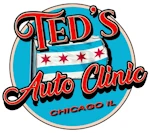 Ted is the best. He and his family are the nicest and most honest people I know in the auto repair industry. They have serviced my family's vehicles for many years now and have always done excellent work on all accounts, and at fair prices too. They've even taught me a thing or two about cars during my experiences there! I will get my car serviced here as much as possible going forward.
Tim B.