Car Care: Auto Maintenance Services
At Ted's Auto Clinic Inc., we understand that the best way to care for your car or truck is to follow the service intervals that your vehicle's manufacturer recommends. Servicing all brands, models, imports and fuel systems in Chicago, Ted's Auto Clinic Inc. has the tools and expertise to make sure your ride runs exactly as its manufacturer intended it to. From reminding you about routine service intervals to ensuring that all fluids, filters, and hoses are in optimal condition, Ted's Auto Clinic Inc. takes care of your vehicle and leaves you with one less item on your to do list.

Contact us at 773-625-7360, or send us an email, and our experts will be happy to answer your questions and determine what needs to be done.

Our basic auto maintenance services include:
Oil, Lube, and Filter
To keep running smoothly, your car highly relies on oil, lube, and oil filters. Oil helps in lubricating, cooling, and cleaning the internal engine components. With time, motor oil becomes contaminated. Our service includes; oil and filter change, chassis lubrication (where needed), vital fluid top offs, tire pressure check, and interior carpet vacuum. When it is time for an oil service, take your vehicle to Ted's Auto Clinic Inc. in Chicago, IL 60634.
To learn more about our Car & Truck Care services, call us at 773-625-7360 or request a quote by clicking below:
Request Quote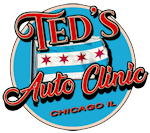 Ted is the best. He and his family are the nicest and most honest people I know in the auto repair industry. They have serviced my family's vehicles for many years now and have always done excellent work on all accounts, and at fair prices too. They've even taught me a thing or two about cars during my experiences there! I will get my car serviced here as much as possible going forward.
Tim B.